Posts

7,107
Likes

2
Location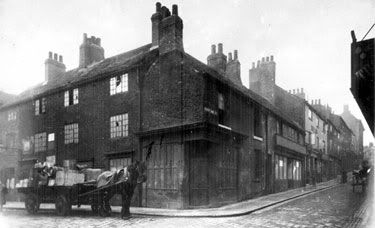 This is a picture circa 1900 of an area in Sheffield called Grindle Gate...i believe Grindle is old for Grinding.
My Great Grandfather(mothers side) served his apprentiship here with the Houdsworth(Holdsworth?) family which is on the 1841 census.
His name was Henry Halke....he later moved to Fawcett Street in Sheffield where i believe one of Duckweeds family lived at the same time
He did fairly well somewhere along the line either with work or luck or legacy as he later moved to leafy Shepperton and his daughter my nan Hettie was born.
Grindle Gate was an area full of people working for the Steel industry...my relly was a Knife grinder and he moved up from deepest Wiltshire to find work....for generations before his family had worked the land in South Wilts.
Grindle Gate and the surrounding(slum) areas were raised to the ground in the 1960's i believe.
My wish would have been to ask my nan what her father was like......and why one moment he was grinding knifes in Sheffield Yorkshire.........and the next making ropes in Shepperton Surrey..
Last edited: